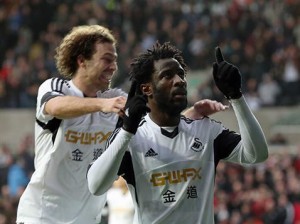 Goals cascade Sunday at Anfield between Liverpool and Swansea (4-3). The Reds have won in pain. It is particularly Wilfried Bony, author of a brace who must see red.
Liverpool took the lead in this part at the 3rd minute by Sturridge. Henderson imitates him a few moments later to make it 2-0. But before the break, Swansea pulled out twice through a fine shot by Shelvey and then Bony. However, it was Liverpool who had the last word before going to the locker room (3-2). Sturridge doubled.
From the start of the second half, the Swans get a penalty converted by Bony who scored his 8th goal of the season. But the Reds are too strong. At the 74th, Henderson will also imitate Sturridge making his daily scoring a brace. Reds finally pocket the 3 points.
All goals of the match!
[dailymotion]http://www.dailymotion.com/video/x1d5luj_liverpool-4-3-swansea-city-all-goals-highlights-23-02-2014_sport[/dailymotion]