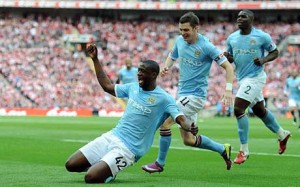 Yaya Toure prefers to shine in the Premier League. Mute and powerless against FC Barcelona in midweek in the Champions League, the Ivorian midfielder endorsed his costume of savior Saturday with Manchester City. Jostled, the Citizens happened to overcome Stoke City with a slight 1-0 win.
A single achievement of the triple African Ballon d'Or which puts City in the title race. A loss combined with the 1-0 success of Chelsea over Everton was undigested.
Yaya Touré has scored his 16th goal of the season.
[youtube]http://www.youtube.com/watch?v=uriRbTwTR_w[/youtube]