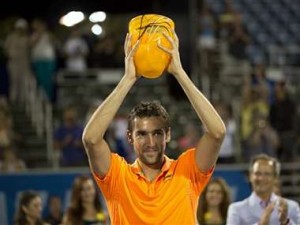 No third career title for Kevin Anderson, 21st ATP. The South African Sunday lost the final of the ATP tournament at Delray Beach pitting him Marin Cilic, 2 sets to 1 .
For their fifth tussle on the circuit, both players remain strong on their services during the first round and must decide the tiebreak. The set is finally pocketed by the Croatian 8 points to 6. The next round is unbridled. Seeded No. 4, Anderson takes of input the serve of Cilic.
But seeded No. 7 returns to 3 everywhere in the sixth game and again makes the break to lead 5-3. A break he couldn't confirm. They then got to the decisive game and this time it is Kevin Anderson who wins, 9-7.
Broken on his first serve in the third set, the first African tennis racket clears the break in the fourth game [ 2-2 ] , but Marin Cilic broke again [ 3-2 ] and maintained his advantage to clinch the trophy after a 3 h 08 min game, 7/6 [8 -] , 6/7 [ 7-9 ] , 6/4.
This is the second title of the season for the Croatian, his career 11th.