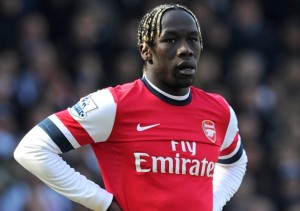 Bacary Sagna who is in the viewfinder of Inter Milan will be out of contract with Arsenal in June. At the moment, the Arsenal defender has not re-enlisted. For several weeks the London club leaders try to extend the French international. The right side seems to be a little reweaving to new proposals from Arsenal.
Currently under negotiation, the two sides still do not reach an agreement. Because the requirements of Bacary Sagna would be too high in the eyes of Londoners. According to the Daily Mirror, the Franco – Senegalese want his leaders to revise upwards his earnings. This is confirmed by a relative of the Frenchman in the Daily Star.
"He will leave the club at 100%, unless Arsenal wakes up in the coming months and offers him a deal with better terms, he has said. This should be in a niche of 7,000,000 per season on a three to four years, with a signing bonus of around € 7 million."
One imagines still badly that English makers accept such a deal while Bacary Sagna has surpassed the thirties because he is 31 years old.