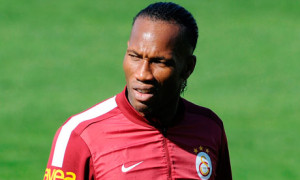 Didier Drogba is obviously very moved by his reunion with his former club Chelsea but also his mentor Jose Mourinho, with whom he has learned not to lose.
In an interview with the BBC, the Ivorian striker assured his former Chelsea team was "ten times better" than Galatasaray. A statement that occurs on the eve of the 8th finals of the Champions League on Wednesday.
"Is Chelsea is better than Galatasaray? Yes, even ten times better," said the 35-year scorer who spent eight years at Chelsea between 2004 and 2012, slightly more than three in the company of the Portuguese coach who was back this summer in London. "But I believe it, even if there is a 1% chance of winning. If I play, it is to win. It will be complicated, but Juve also was better than us then anything can happen ", he has said.
"It will be emotionally difficult to play against Chelsea, he has recognized, however. You cannot spend eight years in a city you do not like. When you are in a club, you want to stay there forever. But sometimes you cannot do whatever you want. I am proud of what I've achieved", continued Drogba who offered to the Blues the title of European champions in 2012 during his last match with them.