Despite the 44 units of Carmelo Anthony, New York, that would explore the Ike Diogu track, bowed to Dallas and further away from the Playoffs. Ditto for Detroit defeated by the Golden State Warriors. Despite the best game of his NBA career, Alexis Ajinça could not stop Chris Paul playing once a nasty blow to his former franchise. Meanwhile, Giannis Antetokounmpo helped to extend the losing streak of Philadelphia.
New Orleans, LA Cippers: Lob City spoils the unprecedented performance of Ajinça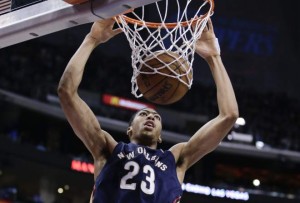 Los Angeles Clippers starters have done the job facing the Pelicans of Anthony Davis (26 points, 11 rebounds). After the law on the floor of Thunder yesterday, Chris Paul (19 points, 13 assists) and co beat New Orleans, 123-110. The five major of Lob City got once illustrated with a scoring range of 12 to 24 points. At the opposing side, Al- Farouq Aminu scored 12 points, 4 rebound and issued two decisive passes. We will also highlight the big game achieved by Alexis Ajinça off the bench. The French Interior has delivered his best NBA game career with a double-double, 19 points and 12 rebounds.
[youtube]http://www.youtube.com/watch?v=klu-ZG1NOJo[/youtube]
Detroit- Golden State: Pistons pay their clumsiness
Andre Iguodala (2/10 halfway and 1 to evaluation) in poor form last night at the  Auburn Hills Palace. Never mind, the Warriors found the argument timely to end the resistance of the Detroit Pistons, 96-104. Neck and neck until the end of 4'11" (94-95), Golden Stadium benefit from the awkwardness of Pistons dumb in the money time, to win the first of their six away matches. Stephen Curry near triple doubles with 19 points, 9 assists and 8 rebounds and Klay Thompson 19 points, the main actors of this victory were well supported by the bench which gives 45 points (15 for the opposing bench). Opposite Josh Smith (18 pts, 11 rebounds, 7 wt) and Greg Monroe (23 pts, 8 rebounds) symbolize with a 17/44 shot at the awkwardness of Detroit who see the play- offs away with a fifth win in 7 games. The Pistons (23v – 34d) are now at three wins from the last Eastern ticket held by the Atlanta Hawks.
The results of the night
New York-Dallas: 108-123
Utah-Boston: 110-96
Philadelphia-Milwaukee: 110-130.