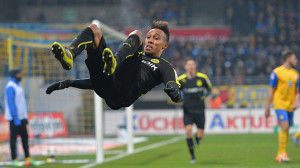 Second week of the knockout round of the European Champions League. On Tuesday, two new games figure in the program with Manchester United moving to challenge Greece's Olympiacos. Borussia Dortmund is also travelling to Russia at Zenit.
If the Champions League is already attracting viewers of continent, the presence of African players amplifies even more attention . And two posters of the day should not depart from the rule. Some international will be to in action. Particularly in the Olympiacos match against Manchester United. If the strong African colony of the Greeks was cleaned this winter, Cameroon Gaetan Bong, the Congolese Delvin Ndinga and Nigerian striker Michael Olaitan will try to thwart the plans of the Red Devils.
In the other match, the arrow Pierre- Emerick Aubameyang will be eagerly awaited. Especially after the underperformance of his team past weekend in the Bundesliga.
Program (time in GMT)
17h Zenit – Dortmund
7:45 p.m. Olympiacos – Manchester United
Results of games already played
Bayer Leverkusen 0 PSG 4
Manchester City 0 FC Barcelona 2
Arsenal 0 Bayern Munich 2
AC Milan 0 Atletico Madrid 1