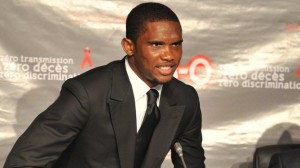 Five African countries have qualified for the next World Cup which is fast approaching - it will be held in June-: Cameroon, Algeria, Nigeria, Ghana and Côte d' Ivoire.
France, Mecca of African teams?
The question is asked this morning by the site 20 minutes.fr.
According to RMC, Cameroonians are putting pressure to seduce the Lyon star, Samuel Umtiti and Paul George N'Tep of Rennes. Samuel Eto'o even plays an important role in this matter.
Claude Le Roy, now coach of Congo – Brazzaville, says: "This is not lobbying, it is simply to try to make some players understand that their interest is to play in the team of their original countries. This is a huge job, but an exciting job where you have to develop arguments. Above all, do not think that will "recover" a player. It is he who must be satisfied first. I'm trying to convince the little Maboulou Chateauroux, because it is the technical profile I want. "
"In France, we do not realize what a national team in Africa is. It is 50,000 people in training, sensations that no player can ever know. It also means having the quasi-permanent opportunity to play a World Cup, African cups of nations."
To be continued