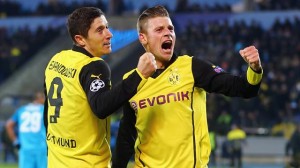 Spectacular match between Zenit and Borussia Dortmund on Tuesday evening in the knockouts of Champions League – see program. The Germans were unbeatable on the lawn of Russians of Zenit 4-2. And you should not come late to the stadium. From the 4th minute, Mkhitaryan benefited from one of the many flaws of the opposing defense to open the scoring.
A minute later, he is imitated by Marco Reus. Dortmund kept mastery up to the break (2-0).
After the break, Klopp's men decreased arms and suffered a scoring pull-out by Shatov. But behind Robert Lewandowski puts his team ahead. It is not finished. The Zenit gets a penalty converted by Hulk.
Borussia Dortmund finally puts one foot in the quarter finals of the Champions League with a goal by Lewandowski.
All goals of the match!
[youtube]http://www.youtube.com/watch?v=gVLEXLoBI2k[/youtube]