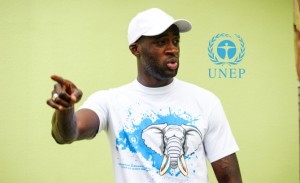 We know the commitment of African football stars for the development on the continent. And because of their iconic status, their messages are often heard. This is probably the idea behind the message that is broadcasted since Wednesday on radios in the Central African Republic.
It is from Yaya Touré, African triple "Ballon d'Or". Also Goodwill Ambassador for the protection of elephants in Africa, the Ivorian star calls for peace the country of Ubangi Fauves.
"Hello, my name is Yaya Toure, Manchester City captain.
In the field I am happy to play with everyone. Africans and Europeans, Christians and Muslims, young and old.
Together we are always stronger. Our differences make us the best.
In Central Africa, you are also stronger while being different.
Please stop beating one another up.
Play together. Live together. For all together you are the best.
Thank you."
A message that is added to that delivered for several weeks by Enza Yamissi, captain of the Central African national team and player of Valenciennes.