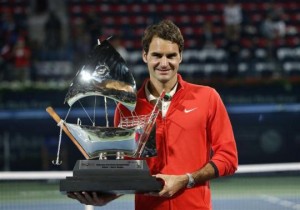 Roger Federer (32) revives a trophy since the grass of Halle in 2013. The Swiss tennis star has snatched a sixth trophy at the Dubai ATP tournament. After defeating the defending champion Novak Djokovic in the semis, Federer beat in the final Czech Tomas Berdych in three sets, 3/6, 6/4, 6/3.
"I'm really happy, I play good tennis again. This is wonderful. I hope I can continue to evolve at this level for another time," said the former No. 1 world ranking who fell to 8th.
With this coronation, the man with 17 Grand Slam trophies-records on the ATP circuit completes his trophy collection to 78. This allows him to occupy now just the third place in ranking of the most successful players of the history before John McEnore -behind Ivan Lendl (147 including 94 listed by the ATP) and Jimmy Connors (149 including 109 of ATP).