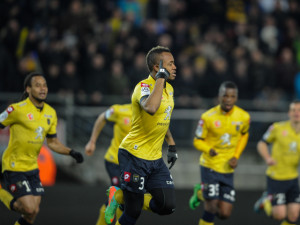 Beautiful Saturday evening for Sochaux. The Doubiste club in the bottom of the hole for several days in Ligue 1 has been given a breath of fresh air as they defeated Bordeaux 2-0 at home. But it was hard for the men of Herve Renard. It took until the second period of game to see the Cubs settling the situation.
It is Jordan Ayew who was left on the bench for the first time since his arrival in the Doubs this winter who took charge of ringing the revolt right of the off bench in the 67th minute. The Ghanaian will be imitated by the Franco -Congolese Cédric Bakambu for the second goal.
After the game, Jordan Ayew reveals his ambitions: "some time ago, knowing that I was substitute, I would have been a scandal. I understand things better, I'm more mature. We have more confidence, more serenity. If we continue like this, we will undoubtedly surprise a lot of people."
Sochaux remain 19th in the championship while Bordeaux (8th) misses the opportunity to pick the squad for Europe.