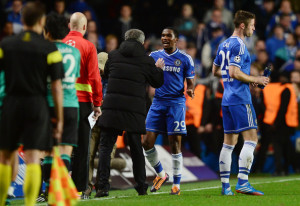 How could it be otherwise? Statements of Jose Mourinho over the age of Samuel Eto'o brought forth a not really healthy atmosphere within the London club. Everyone starts to believe that divorce is initiated between the two men despite conciliation statements launched here and there.
"We get no scorer. Samuel Eto'o? Yes but Eto'o is 32, maybe 35 I do not know ". This sentence dropped before the microphones of Canal + has engenders consequences. If Samuel Eto'o has indicated his displeasure though still showing no controversy, the manager has left room for doubt in his tactical choices for a few days. Starting Wednesday the status of substitute of the Cameroonians in the Champions League against Galatasaray while everyone expected a shock between Drogba and Eto'o .
Not even in the band!
Saturday, Samuel Eto'o was not in the group of Chelsea that went to dominate Fulham 3-1 at Craven Cottage. Explanations of Mourinho: "There is no problem with Samuel. I just felt that in this type of game -outside, against teams who defend normally aggressive defenders, Fernando Torres was the best choice, and if I needed to take a risk late in the game, I would have used Demba Ba."
Another act that adds to the long list of rumors about a possible departure of the former Barcelona at the end of the season. This weekend, Italian newspapers reported his return to Inter Milan. And each time, Mourinho tries to defend himself: "If I did not like him, I would not take at Chelsea."
Not sure whether this is sufficient to mitigate the discomfort created by his statements…