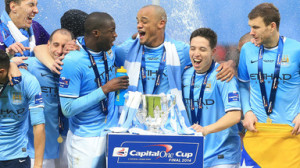 Manchester City have won the League Cup trophy Sunday at the expense of Sunderland, 3-1.
Citizens have been worried in the final played at Wembley. From the 10th minute, Fabio Borini sees air balloon misjudged by the Mancunian defense for the opening goal. Beaten last season by the relegated Wigan in FA Cup Final, the Skyblues stumble on a well consolidated Black Cats defense. The dread of further disillusionment was gaining more and more players of Manuel Pellegrini despite the return of Aguero who could not find the flaw, score 1-0 at the break.
In the second half, the master of play of Man City, Yaya Toure, unlocks the situation on a wonder strike from 25 yards, unstoppable for the last bastion of Sunderland. 1 everywhere until the 55 ' and 2-1 in the wake thanks to Samir Nasri (56′) who reproduced successfully a shot poorly cleared by the Cats defense. Jesus Navas off the bench confirms the domination of Citizens in extra time as he made it 3-1.
Manchester City won the League Cup (3-1) for the first time since 1796. This is also the first title for Pelegrini on the bench of Citizens who sealed a lot of hope ahead their hard trip to Barcelona on behalf of the knockouts second leg of Champions League.
Check out all the goals!
[youtube]http://www.youtube.com/watch?v=zXiQEAhZgM0[/youtube]