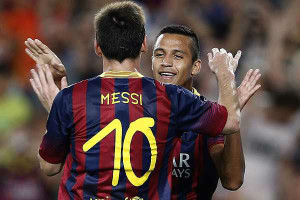 FC Barcelona has the opportunity to return to a point adrift of Real Madrid held in check Sunday by Atletico Madrid 2-2. And all goes well now for the Blaugrana. The Catalan club won 2-1 over Almeria with a beautiful goal by Lionel Messi. The Argentine scored a free-kick full of beauty.
After the 3-1 defeat to Real Sociedad last weekend, another defeat would will smudge the Blaugrana. Alexis Sanchez took up the challenge as of the 9th minute. And then the free-kick of Messi. But Trujillo happened to pull out a goal to make the final score 2-1.
With this goal, Messi has scored 340 goals over 409 games for Barcelona.
Messi has now scored 340 goals for Barcelona in 409 official appearances

— MESSISTATS (@MessiStats) March 2, 2014

[youtube]http://www.youtube.com/watch?v=jJQXtRKrdc4[/youtube]