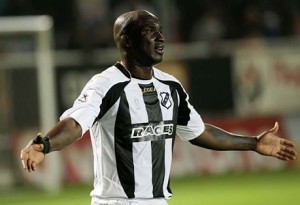 Dirty weekend for Marc Zoro! During the 27th day of the Greek championship, the Ivorian defender was victim of insults and racist chants throughout the match which opposed his side, OFI Crete to Aris Salonika.
Upset to see their club lacking initiatives and languishing in the depths of classification, Aris fans chanted racist songs that were clearly were targeting the Ivorian international.
The latter referred to the incident on his Facebook account after the meeting.
"Nine years after racist incident in Italy during the match FC Messina vs Inter milan, I am still subject to the same incident in Greece. During the match OFI FC vs ARIS, this Saturday, March 2, 2014, all of the ARIS fans turned against my small personality shouting racist abuse of all kinds, probably just because their team could not score lol. With the full knowledge of all official, I complain to the referee, and I am surprised to receive a yellow card in return," he has written.
According to some sources, Uefa and Fifa should open very soon an investigation against the Greek club, already weakened and at the edge of financial precipice.
Marc Zoro was transferred to OFI Crete last summer.