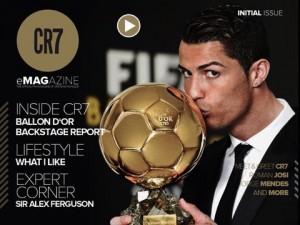 Cristiano Ronaldo, a jack-of – all! Collection of underwear, a social network, a museum dedicated to his own history and his achievements … and now an online magazine, the Portuguese striker is more than a footballer.
The Ballon d' Or 2013 officially launched on Sunday his own e- magazine. Made in the wake of his second Ballon d'Or win in the month of January, this online magazine dedicated to the Real Madrid striker will be buyable and available as an app for tablets and smartphones.
On the announcement of the offer, he promised an "emotional experience" in the everyday life of the Portuguese international. There will be in the program photos and videos, the private life of the superstar, music and exclusive interviews with the former coach of Manchester United, Sir Alex Ferguson, in the first volume.
Then this e- magazine dedicated to CR7 will not however be for free. € 89 cents will be provided for the smartphone version while 1.70 Euros will be cashed for tablets version, available under iOS and Android.