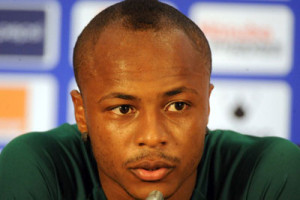 The world football fans are 100 days ahead of World Cup 2014 from today. If African teams are busy for a good turnout, André Ayew, midfielder of Olympique de Marseille apparently separated from the podium by PSG, wants to first focus on the end of the season.
While the Brazilian World Cup is approaching , André Ayew ensures not yet thinking about the competition he should play under the colors of Ghana. The Marseille midfielder currently puts total focus on the end of season L1.
"Brazil is the country of football. There will be a whole crowd of Brazilians behind them. I think it will be a good World Cup, logically. As I say, I put it aside. I want to finish well with Marseille and after I'll have time for the World Cup," he has said on RMC.
Housed in the Group G, Ghana will face in the 1st round, Germany, Portugal and the USA.