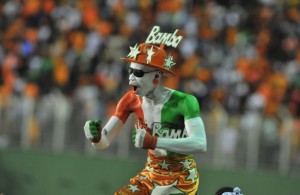 It is already the World Cup! First preparation matches for selections qualified for the high mass of world football. And it particularly include 5 African representatives. Some are preparing to deliver real test-games Wednesday. Starting with a highly anticipated Ivory Coast – Belgium in Brussels.
The band of Didier Drogba confronts one of the current best sides in Europe. With an in-form Red Devils crew including Hazard, Benteke, Lukaku and Kompany. Elephants can also rely on their icons Yaya Toure, Gervinho , Salomon Kalou etc….
Another very prestigious meeting opposes Portugal to Cameroon. To face Cristiano Ronaldo, Samuel Eto'o stands up tall. Volker Finke has the opportunity to assess the shape of his players. Nigeria face Mexico in the United States, while Ghana plays Montenegro in Austria.
Finally Algeria receive Slovenia in Blida.
Program
5 p.m. Algeria – Slovenia
7:45 p.m. Belgium – Côte d' Ivoire
8:45 p.m. Portugal – Cameroon
Ghana – Montenegro
Nigeria – Mexico
Other friendlies for African teams
Senegal – Mali
Mauritania – Niger
Burundi – Rwanda
Burkina Faso – Comoros
Morocco – Gabon
Iran – Guinea
Colombia – Tunisia
Brazil – South Africa
Bosnia and Herzegovina – Egypt
Luxembourg – Cape Verde
Mozambique – Angola
Malawi – Zimbabwe
Kenya – Sudan
Zambia – Uganda
Namibia – Tanzania
Botswana – South Sudan