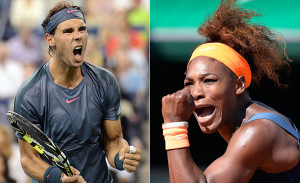 Two generations of tennis (male and female) will find themselves on the short end of the year for a so-called International tennis premier league (ITPL) exhibition tournament.
This tournament that will take place in Asia will be unique. Unique because it oppose five teams based in a large Asian city. Players who take part represent those cities such as Bangkok, Bombay, Singapore and Dubai. Another feature of the ITPL is that each team will consist of players of both sexes purchased by cities during an "auction". Cities will have limited grant for this purpose.
The International Tennis Premier League is the brainchild of the Indian Mahesh Bhupathi, doubles specialist and winner of 12 Grand Slam trophies. Teams would compete in 5 games (men's singles, women's singles, men's doubles, mixed doubles and legends match) in a single set. Will be declared winner the one that has won the most games in all 5 games.
Should compose the team of Bombay, Rafael Nadal, Pete Sampras, Gael Monfils and Fabrice Santoro.
Novak Djokovic, Martina Hingis and Goran Ivanisevic represent Dubai.
Serena Williams, Tomas Berdych and Andrea Agassi will defend the colors of Bombay.
Andy Murray, Jo -Wilfried Tsonga and Victoria Azarenka make the team of Bangkok.
The complete composition of each team will, in principle be known on Thursday. The first edition of the International Tennis Premier League ( ITPL ) will take place from November 20 to December 28.