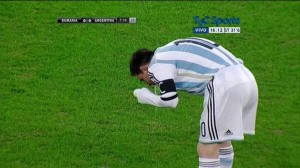 Argentina, big favorite for the trophy of the World Cup, was held in check Wednesday during the FIFA day by Romania. The Albiceleste are in poor form las well as their their nugget, Lionel Messi. The Barcelona player was ill and also vomited during the meeting.
Starter, Messi who has all the evil to break through the opposing defense, let out a little of the contents of his stomach.
This is not the first time this has happened to the Barça striker, having previously been a victim of acid reflux during several games with Barca.