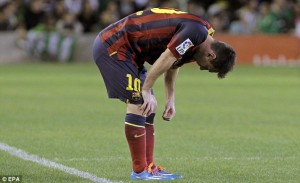 FC Barcelona are in crisis! They won yesterday for the title race – they are still well placed in the Champions League.
The club is concerned especially about the health of Lionel Messi who continues to vomit on lawns.
FC Barcelona coach Gerardo Martino has even said that his player has been won by impotence yesterday against Valladolid, low table side that won 1-0 in the 27th day of the Spanish Championship.
"Over the minutes, we were won by impotence.
This is our second defeat in two away games, we are concerned. This is the time when the league is played and we made no point over two trips (…). But even if we had won or drawn today, we should go to the Bernabeu with the need to win. Are we now able to do it? It is clear that we do not show our best face and to play against Real Madrid and have our chances, we must find it. There are only 15 days left before this game, we have all this time to try to find best forms, especially now that we have a match of the Champions League ahead."