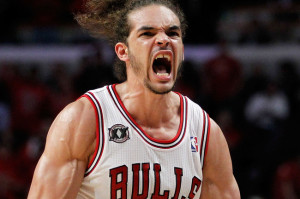 Joakim Noah had little, almost not appreciated the performance of his team, considered to be less aggressive in the last game against the Heat. That night, the Bulls have the intensity in the game to receive the double champions. With as supporter of the day his father in the United Center, Joakim Noah released a huge game for the victory of Chicago at the expense Miami after extra time, 95-88.
With a LeBron James in difficulty (17 points, with 8/23 shooting) and a first QT bad started ( 21-19 ), the Heat enjoyed a 0-15 inflicted in 5 minutes to teammates of DJ Augustin (22 points) to take control of this ultra defensive game. With an address of 51.5% shooting (against 39 %) Floridians, led by Dwyane Wade (25 points) and Chris Bosh (15 points) leads to the break, 37-43.
In addition to leading, with Jooks, things became more complicated for the best player of February in the East, James Bulter (16 pts, 11 rebounds st 4 cons ) who allows his side to recover on an award winning shot after 5 minutes in the second period. But Bosh and Ray Allen on two shots behind the arc widened the gap again. King James subsequently found easier the target and chained seven points. But the men of Tom Thibodeau remain -8 before the last quarter. But Illinois Bulls took out their horns and through 13-0 passes with the score (75-74). Both franchise make point by point and are tied, 86 everywhere at the end of the last twelve minutes.
In overtime, Joakim Noah remains as intense on both sides of the court to permanently cool Miami , 95-96, who concede a third straight loss. The pivot All Star finished the game with 20 points, 12 rebounds, 7 assists, and 5. To find such line stats (20 pts, 10 rebounds, 5 RP 5 ctrs ) in Chicago, you need to returned to 1995 with Scottie Pippen.