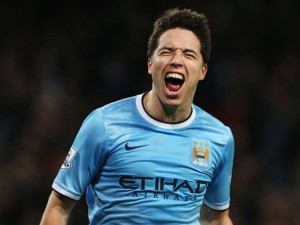 Barcelona hosts Manchester City on Wednesday for the knockouts second leg of Champions League. Beat (0-1) the last weekend in the quarter -finals of FA Cup against Wigan, the Citizens join Camp Nou with their low morale. Samir Nasri hopes to rebound against Barcelona after the elimination of his team in the FA Cup.
"We seem to have a hangover. It was a bad performance against Wigan and we have not played well. I cannot find the right words because I 'm really disappointed. The biggest disappointment is that it is the second time Wigan beat us in the FA Cup. It's really hard to accept. Thank you God, we play a big game on Wednesday. This is the best way to forget this match and concentrate on the next one. It'll be a big game. We will think about Barcelona, we have to be positive and get a result there. This is an amazing game and we can do something fantastic catching the result, but we need to be focused and learn from our mistakes against Wigan."
Manchester City lost 2-0 on their lawn to the Baugrana in the first leg.