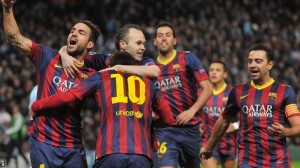 As Africa Top Sports.com reported, Barcelona and PSG qualified Wednesday night for the quarterfinals of the Champions League.
After suffering a 2-0 in the first leg, Manchester City had no choice: the English club had to score at least two goals without conceding any before playing the quarterfinals of the Champions League .
After the first 45 minutes, the score was still a virgin.
In the second half, FC Barcelona has found the net in the 67th minute of play by L.Messi.  90 +1 e D.Alves
It took until the 89th minute to see Kompany (who played with new brand shoes) to restore parity. Alves confirmed the supremacy of the Spaniards as he made 2-1 in the extra time.
Lionel Messi, who had worried the world by vomiting on a lawn in Spain, has reassured his fans! He's fine! "It always happens to me, whether during matches, training or even when I'm at home. It does not matter."
Barcelona will consequently play the quarterfinals of Champions League at the expense of Skyblues.
[youtube]http://www.youtube.com/watch?v=ROzuylQS6Do[/youtube]
[youtube]http://www.youtube.com/watch?v=9PdrmHEPA0s[/youtube]