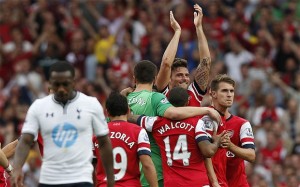 The old demons of Tottenham are still around. The defense, one of the weaknesses of the Spurs this season, has not waited long enough to confirm. From the first minute of play, a loss of ball in midfield benefits Rosicky who put a fine shot in Hugo Lloris' net.
Yet, it is Tottenham who have the ball (65% possession) but did seem to worry the Gunners goal. Emmanuel Adebayor moves a lot on the front of the attack but still lacks accuracy in his actions.
Back from the break, Spurs' inescapable domination was enough to scare Gunners who suffered countless attempts from Adebayor. The Togolese and his teammates heard the last whistle without managing to restore parity at least in order to clinch a mere league point.
Coach Arsene Wenger and his crew have collected the 3 units of the clash as they inflicted a slight 1-0 loss to Spurs.
Earlier in the day, Liverpool humiliated Manchester United 3-0 at Old Tramford.
Check out Rosicky's goal!
[youtube]http://www.youtube.com/watch?v=mGyqHWN1asM[/youtube]