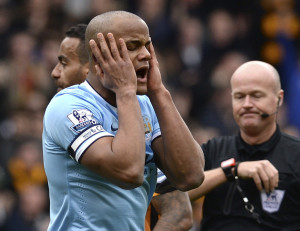 Only 10 minutes!
This small figure is the time of play yesterday of Vincent Kompany who was excluded at the thirtieth day of the English championship.
This did not prevent Manchester City from imposing themselves outside on a score of 2-0 to Hull City.
Following his lost duel with Jelavic, Vincent Kompany has pulled the shirt of the Croatian striker who was poised to shake the goal.
Referee Roger East did not hesitate to send the Red Devil to the cloakroom.
Here's the video of the foul!
[youtube]http://www.youtube.com/watch?v=1KefJdR8lNc[/youtube]