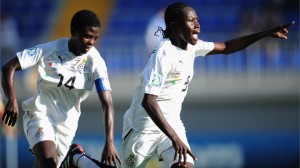 The U17 Women's World Cup began Saturday in Costa Rica with the opening match of two African teams. Zambia lost to Italy (0-2). The executioner of the Shepolopolo is called Annamaria Serturini, author of a brace.
Zambia, which is in its first participation in the competition will have to recover quickly in group A to avoid an early elimination. In the next game, they will face Venezuela who had no pity for the host country (Costa Rica) 3-0.
Nigeria begins today!
Ghana have enforced their position and their ambitions in their first match played against Korea. Girls of Evans Adotey have imposed themselves 2-0 with achievements of Ayieyam Jane and Sandra Owusu Ansah. The West Africans are top of their group after a 2-2 draw between Germany and Canada.
The third African representative will get into action this Sunday. Nigeria begin they tourney against China in Group D (23h GMT). The other match of the group opposes Mexico to Colombia.