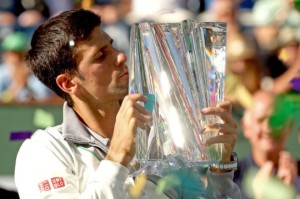 First final of the year and first trophy for Novak Djokovic (26). The World No. 2 beat Roger Federer last night at the Masters 1000 Indian Wells, for their 33rd face to face on the circuit. The Serb was pushed to the tiebreak of the third set by the Swiss who bows after 2 hours 12 minutes 3/6, 6/3, 7/6 [7-3].
Djokovic wins his third Indian Wells after 2008 and 2011. He succeeds Rafael Nadal in the charts. This is the 42nd title making the 17th Masters 1000 for the Serb star.
With this coronation, Nole nibbles 1600 points on Nadal, No. 1 in the world in the ATP rankings. Losing finalist Roger Federer jumped 3 ranks and now ranks fifth ATP.
Eliminated in the quarter-finals by Federer, South African Kevin Anderson remains 18th in the world.