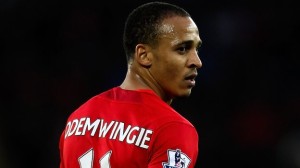 Peter Odemwingie can stop dreaming. He will not be with the Super Eagles at the next World Cup to be held in Brazil.
Author of a brace with Stoke City this weekend, the player is not unanimous. And for Stephen Keshi, he will not go to the World competition and his current performance will not change anything.
"I am pleased that Peter scores with his club and he is now back to a good level. But this is not enough in my opinion to call him for the World Cup," said the former coach of the Hawks of Togo.
For Keshi, a collective achievement is more important than an individual one.
"What most Nigerians do not understand is that this team does not rely on one player, but an entire group. No player is king in the team, all players are equal. I do not want to invite a player who can disrupt the alchemy and team unity," said the Nigerian coach.