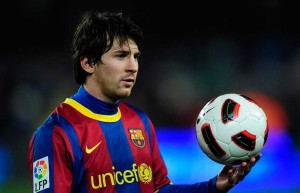 Lionel Messi does not intend to leave FC Barcelona, a club where he was trained. Recently, he said he was too attached to the club to leave it and so he would like to finish his career there,"provided the leaders of the club agree and still want him". A precision that is worth his golden weight.
In fact, if since the early rumors of Lionel Messi being coveted by PSG, we all focused on the fact that he would never leave for another club like PSG or Manchester City, the vision of FC Barcelona is perhaps not so clear. We're talking about a report that currently circulates about the Argentine.
Latest news on La Sexta, to take again with tweezers, are pretty clear that FC Barcelona is currently studying the feasibility of a sale of Lionel Messi! The Los Jugones program is affirmative: "The staff of Barça is going up a full report to investigate the sale of the Argentine. Leaders believe that after the World Cup, the time is right to take action."
Selling Lionel Messi this summer, when he is at the peak of his form, would be a great deal to finance the new stadium and give a little air to the Catalan club scholarships. Last but important precision, this survey was commissioned by Sandro Rosell but the documents have not been excluded by the new Barça president Josep Maria Bartomeu. The good news for Lionel Messi, is that this idea is not unanimous among the management team.