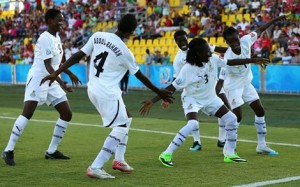 Second day of the group stage of the Women's World Under-17 years old and already the first qualified for the quarterfinals. Good news for Africa, which guaranteed at least one representative in the next round. It is Ghana who validated their second success in as many games.
Tuesday, the Black Maidens imposed themselves on Germany 1-0. Gladys Amfobea scored the only goal of the game and ensured qualification to the quarters for his team. Ghana is the current leader of Group B with six points ahead of Canada (2 points) author of a 1-1 draw with North Korea.
Nigeria tomorrow against Colombia!
Disappointment however for Zambia. Already beaten of entry, the Shepolopolo who are in their first participation in a World Cup finals are eliminated after two defeats in as many games. They bowed on a hollow 0-4 defeat to Venezuela. They will have to try to leave the competition with the least of honor by beating Costa Rica, the already eliminated host country.
Nigeria, last African representative play their second group stage game Thursday against Colombia. At the first exit, the girls of Nikyu Bala had dominated China 2-1.