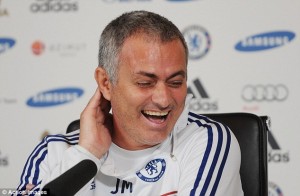 Arsene Wenger will long remember his thousandth match on the bench of Gunners. On this occasion, it was Chelsea who made who led the show. Blues crushed the Gunners 6-0 in a goal festival. Not even once the French technician does not beat his Portuguese counterpart.
Wenger has never beaten José Mourinho during his career ten meetings: 5 draws and 5 defeats. This Saturday, the legendary coach of Arsenal lived a nightmare, a terrible disappointment when the "Happy One" is in party and approaches increasingly to the title.
"We achieved what we wanted to do, get the ball and go forward quickly. At 2-0 after 10 minutes, it was over; we were too strong for them. With the red card, the match was folded," said the Blues coach.