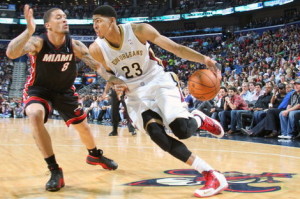 Al Farouq Aminu found a place of starter that night at Smoothie King Center upon receipt of Miami. The Nigerian winger spent 45 minutes on the floor scoring 12 points for the victory of the New Orleans Pelicans over the Heat, 105-95.
The double champions of the NBA, are in a difficult period with their seventh defeat in 11 games. Yet playmaker LeBron James in trouble with his back and ankle, was still complete with a line of stats grazing triple double (25 pts, 8 rebounds, 9 assists). But opposite Anthony Davis is walking on the water this time. The All Star interior has compiled 30 points and 11 rebounds for the second straight victory for Pelicans.
Without Dwyane Wade, left standing, the Heat made the best start with a 2-10 to start the game. But Pelicans benefited from stray bullets by Floridans to return to the game and lead to halftime 45-43.
Second period under the leadership of Davis, author of the 8th match with at least 28 points and 9 rebounds – franchise record and the second longest streak in the League behind Shaquille O'Neal (12) in 2001 with Lakers – the Pelicans still have the advantage on the score at the end of the third quarter time, 76-72.
In addition to his 12 units, Aminu added 8 rebounds and 2 assists on the stat sheet. Off the bench in the fourth quarter time, Alexis Ajinça participated in this first victory with the New Orleans over Miami since November 2010 with 7 points and 4 rebounds.