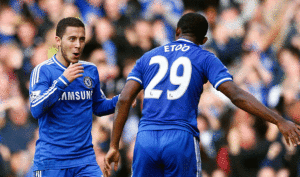 The 1000th match of Arsene Wenger as Arsenal head coach turned into a nightmare. The French engineer and his foals have been subject to a real slap at the Stanford Bridge bowing 6-0. Summary!
The Blues have scored their first goal just five minutes after the start of the meeting by Samuel Eto'o. Well served by Schürrle, the Cameroonian dribbles his opponent and scores for Chelsea with a superb curling shot with the left foot.
Two minutes later, André Schürrle, not attacked by the Gunners, put a burning shot in the Arsenal goal to make 2-0 for the Blues. And 3-0 in the 18th minute as Eden Hazard transformed a penalty. The penalty was secondary to Alex Oxlade Chamberlain hand in the box.
Three minutes from the end of the first period ( 42nd ), Oscar improved the lead after a good team move following an assist from Fernando Torres. 4-0 at the break.
Reduced to 10, Arsenal will still bow twice after the break. Oscar made his daily counter a brace in the 66th minute with a long shot poorly negotiated by Wojciech Szczesny. Mohamed Salah, off the bench sees another mistake by the Arsenal defense to stand alone against the goalkeeper and score his first Premier League goal in the 71st.
Chelsea keep the championship lead and now exceeds Arsenal with 7 points.
Enjoy all the goals of the game in these images:
[youtube]http://www.youtube.com/watch?v=ZMU2Dl0PCz4[/youtube]