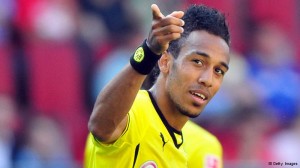 Injured and missing the past weekend match against Hanover (3-0), Pierre Emerick Aubameyang is at the heart of attention at Borussia Dortmund. While the club is ready to play on Tuesday the 144th Ruhr derby against Schalke 04, the presence of the Gabonese striker is still uncertain.
"He took a blow before the match against Hannover and it was serious. But two days ago he resumed the race and I hope I have seen tonight that four days are sufficient to cure his illness", said Jurgen Klopp.
The manager of the club can also count on Moroccan Reus who made his return on Saturday after his absence in the Champions League.
While Dortmund and Schalke 04 face, Bayern Munich will try to clinch their 24th title as Bundesliga champions against Hertha Berlin.