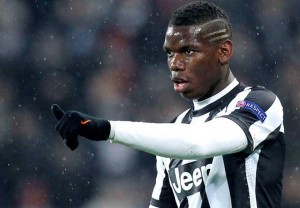 Paul Pogba could already pack up. But the Juve do not intend to let the French midfielder of Guinean origin go away. The transalpine club is getting ready to extend until 2018 the contract of the former Manchester United with a term in 2016.
Will Paul remain in Turin? In any case, the sporting director Bianconero Giuseppe Marotta is confident. "Do not worry, we will extend him. It is only a matter of time."
According to Il Corriere dello Sport, the two principal courtiers of the player, namely the Paris Saint- Germain and Real Madrid are far from having released the song. The Italian daily reaffirms that Paris has put € 70 million on the table to provide the services of French international.
A sum that would make the Turin player fourth (tied with Ibra during his transfer to Barça ) most expensive player in football history (taking into account Neymar's official figure of € 57 million announced by Barca. Meanwhile, Real Madrid would not offer as much money, but just 40 Million € over the signing of Fabio Coentrao winger. Financially, PSG is ahead. remains that several media outlets have suggested that the choice of the French midfielder would be the Casa Blanca.