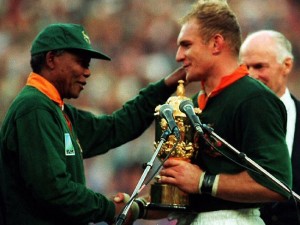 One after the other, they die or are affected by rare disease with no real apparent reason. This is the reason behind a story of "Stade 2 ", sports TV show on France 2 Sunday. Ruben Kruger, died at age 39 of a brain tumor, Joost van der Westhuizen and Tinus Linee, with amyotrophic lateral sclerosis (otherwise known as "Lou Gehrig's disease "), André Venter, affected by a transverse myelitis…
These former world champions of rugby in 1995 (pictured Captain Francois Pienaar receives the trophy from Nelson Mandela) are living difficult times. But difficult to know where their evils comes from. According to the report, it could be due products used for doping at the time of the competition. "We stayed within the limits, we took B12 injections, tips for injury (…) It could not be something I 've never tested positive", says the imposing Kobus Wiese in Jeune Afrique.
This an hypothesis that could break the myth of that triumph which ultimately served as a reconciliation of the South African people in this time of Apartheid.
To be continued…