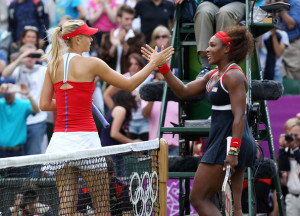 Serena Williams will face Maria Sharapova in the semifinals of the WTA Miami. "She is one of my favorite players with whom I prefer to play and it motivates me a lot," says the most successful player on the Florida hard (note 6 trophies for 61 wins making it one more title than Steffi Graf). For this 17th tussle between the two rivals takes place, they did respect their place in the quarterfinals.
Serena Williams has dictated her law to Angelique Kerber for the quarterfinals of the women's tournament in Miami. The American, World No. 1, spent 62 minutes on the court to dispose of the German 9th player in the WTA, in straight sets, 6/2, 6/2. "I felt much better than on my previous games. Knowing that I would meet a Top 10 player, I had to challenge myself and play really well tonight. And I played well," said the World No. 1 author of 27 points for the winners 17 unforced errors.
In the semifinal, the defending champion Maria Sharapova will play for a remake of the 2013 final . The Russian , seeded No. 4, disposed of Czech Petra Kvitova, 7/5 , 6/ 1.
The mission will not be easy for Maria Sharapova who has not beaten Serena Williams since 2004. The younger of the Williams sisters won their last 13 face to face.