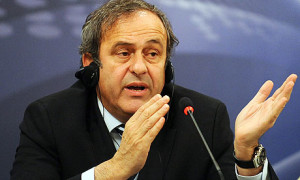 The Uefa now wants to crack down harder any person who is found guilty of match-fixing. Met in congress, the regulator for European football has unanimously adopted a resolution Thursday in Astana against match-fixing, in particular to establish a "severe penalties" to anyone involved.
By this resolution, the institution of Michel Platini aims at standardizing sanctions on the principle of zero tolerance on this issue. "We ask Uefa member federations to align the European Football Union to fight this scourge which is a real threat to the soul of our sport", commented Michel Platini, President of UEFA.
The boss of European football took the opportunity to come to the rostrum of Alina Stetenco, coach of the women's team under 17 years of Moldova, to pay tribute to this young woman who "has said no to match-fixing and that dropped a connection ".
A Moldovan official was banned for life in the attempt to manipulate a match of the women Euro Under-17 last August. "Alina said no, no intimidation, no to corruption, she deserves a standing ovation, it is an example to follow," said Platini by presenting her, in the 54 representatives of UEFA.
Also at the conference, Platini recalled Fifa on the phenomenon of ownership of players by third parties,"another danger in football".