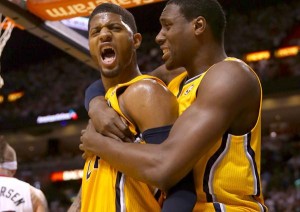 A playoffs wind blew on Indiana last night. The two best teams in the Eastern Conference Indiana and Miami, have delivered a merciless duel to conquer the top spot in the Eastern Conference for the playoffs. It is the Pacers who had the last word. Teammates of Paul George (23 points) and Ian Mahinmi (2 points and 4 rebounds in 14 minutes) were able to contain the onslaught of LeBron James (38 points) and his teammates.
Too lonely, James was unable to wrest the decision. A minute to the end, David West offers four leading points to Pacers. Chris Bosh brings the Heat to a point down with three seconds left. Norris Cole quickly sends George Hill on the free throw line. The leader of Indiana misses two shots and the ball gets back to the Heat.
In the absence of Ray Allen, Chris Bosh is the one who inherits the ball. Before the turn of Roy Hibbert control, he fails to find the target. Indiana win 84-83 and consolidated their top spot in the East.
[youtube]https://www.youtube.com/watch?v=PYIwF_ElWCo[/youtube]