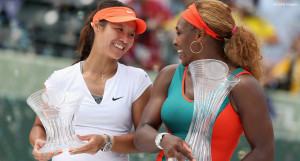 Serena Williams more than ever Queen of the WTA tournament in Miami. Already held the record of the competition since last year, the World No. 1 has snatched her seventh trophy on Florida Drive. The American with 17 Grand Slam titles in the final beat China's Li Na in two sets 7/5, 6/ 1.
Facing a World No. 2 very aggressive at the beginning of the final, Serena quickly overwhelmed her. Two breaks later, she finds herself leading 5-2 after 34 minutes in the first set,"Li Na played so well this time, I told myself " Damn if you continue like this, you'll lose in two sets, you have nothing to lose ," she says. In fact, this was able to get me relaxed and I played my real tennis. "
Free from any pressure and encouraged by the public, the youngest of the Williams sisters, living in Florida, aligns 5 games and won the set 7-5. She flew over the next set and the final took 1hr 54 minutes of exchange.
This is his seventh title at the tournament in Miami (nine finals) and her second of the season after Brisbane in January 2014 "I'm happy with my level of play, I think I can still be the best , there are records that I want to fight for, that's what motivates me," said the champion with 59 career trophies.