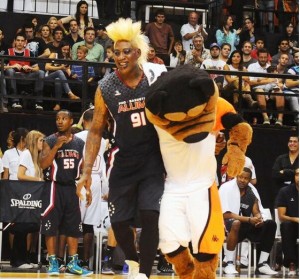 The best friend of Kim Jon-Un (President of North Korea), was Saturday in Buenos Aires (Argentina) for a match at the Legends of Basketball Tour.
Rodzilla who is never short of ideas is further illustrated this Saturday. The five times NBA champion (Ed., 1989 and 1990 with Detroit and three times with Chicago [1996, 1997 and 1998]) appeared alongside Gary Payton and Latrell Sprewell in drag queen.
With exaggerated makeup and hair inspired by Neymar, Dennis Rodman, dressed up for the occasion and had not gone unnoticed on the floor of the Luna Park.
Video of the Argentine stay "The Worm"
[youtube]http://www.youtube.com/watch?v=JFElwqanIMY[/youtube]