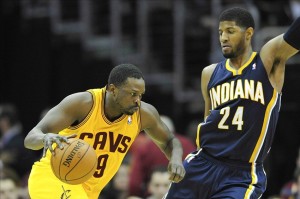 The regular NBA season is entering its final line and the race for the playoffs continues to shake some posters.
Ninth in the Eastern Conference, New York always hope to be in the Top 8. 4 players with 15 points and the Knicks got their 31st victory (43 losses) on the floor of the Golden State Warriors, 84-89. Carmelo Anthony (19 pts, 9 rebounds) and co have the same number of wins as the Atlanta Hawks (31 v 41 d) 8th in the East. Warriors point guard Stephen Curry finished leading the scoring with 32 points. Andre Iguodala has cracked 12 points, 6 assists and 5 rebounds during the 28th defeat of his team ranked 6th in the Western Conference.
Already sure to be among the top eight franchises in the West, Oklahoma City Thunder dominated Utah Jazz, 116-96. The Spanish international of Congolese origin, Serge Ikaba took part in this victory with 17 points, 6 rebounds, 2 assists and 4 blocked shots. His partner Kevin Durant blackens his stat sheet with 31 points and 9 assists. He is now only two games adrift of the performance of Michael Jordan (40 straight games with at least 25 points).
Luol Deng (15 points, 5 rebounds) and the Cavs have not turned their backs on the second phase of the NBA season. Cleveland have overwhelmed the leaders of the East, Indiana, 90-70. The Franco-Beninese of the Pacers, Ian Mahinmi played 15 minutes off the bench for 4 rebounds and 1 point.
The other results of the night
Brooklyn v Minnesota: 114-99
Orlando v Toronto: 93-98
Boston v Chicago : 102-107
LA Lakers v Phoenix 115-99