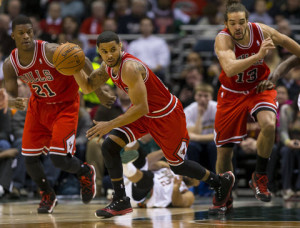 With Joakim Noah in passing (13 assits ) and DJ Augustin in scoring (33 pts), Chicago imposed themselves at TD Garden on the Boston Celtics, 102-107.
In this encounter paced end to end, the Bulls, thanks to the 13 units of Augustine, led with a point at the break (50-51). After the break, Rajon Rondo ( 17 points, 11 assists ) and his teammates fail to get rid of the class came delivered the squad from Illinois (6 players, including the starting five, finish on 11 points or more) and a point gap is held at the end of the third quarter time ( 77-78 ).
In an exceptional evening (10/10 on the free throw line and 10/14 midway) DJ Augustin registered 15 of his 33 points (career high) in the last quarter time and allows the Bulls to validate their qualification for playoffs. Joakim Noah touches the triple double with 13 points, 13 assists and 8 rebounds.
Out of the Top 8 race in the Eastern Conference, the Celtics lost their fourth straight game, the ninth over the last ten.
Highlights of the 33 points of DJ Augustin
[youtube]http://www.youtube.com/watch?v=8bY-1eO297c[/youtube]