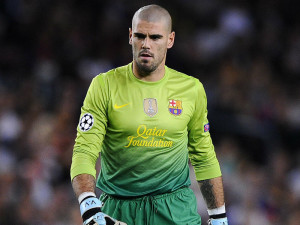 We told you last week. Victor Valdes' season is over. The Spanish goalkeeper of FC Barcelona got injured Wednesday in the league against Celta Vigo (3-0).
Valdes has been successfully operated on Monday in Germany and his downtime is known. He will be out for the next 7 months and will miss the 2014 World Cup with Spain. The vice goalie to Iker Casillas with Roja will watch the competition on TV. And this triggered a lot of questions about his future.
Valdes was out of contract at Barcelona and had already announced his departure at the end of the season. Monaco is expected to welcome him unless a turnaround after the injury.