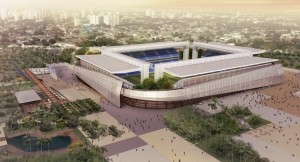 The first official test match in the Cuiaba Stadium, one of the three not yet delivered over the twelve stadiums for World Cup – Brazil 2014 will take place on April 26.
The first official test will be held on April 26, with the Brazilian second division match Luverdense – Vasco da Gama as confirmed Monday on the governmental website of the World Cup. But before that, a test match is scheduled on Tuesday between the local club Mixto and Santos, a meeting which will be held in an unfinished enclosure. Some sectors are not yet complete, as the galleries on the upper floor or furniture in the lockerooms.
Twenty thousand tickets were put on sale over the 41,390 that will accommodate the Arena Pantanal during the World Cup, according to organizers.
Three stadiums have not yet been delivered to FIFA: those of Cuiaba, Curitiba and Sao Paulo. The stadium in Porto Alegre, inaugurated on February 15, is still under construction for its complementary structures located in its surroundings. Despite this, Fifa wants to be reassuring.