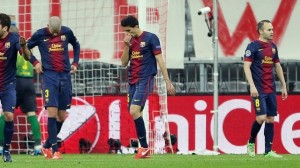 They will probably need another Lionel Messi in a week if Barcelona want to see the semi-finals of the Champions League. The Argentine could not mark Tuesday evening during their first leg of the quarterfinals of Champions League against Atletico Madrid (1-1). A good draw for the Colchoneros who can still dream.
First blow in this game for Barca, the exit on injury of Pique, the boss of the Catalan defense. Behind Atletico also lost striker Diego Costa. All in a very pleasant first period but no goals.
In the second half, Diego who replaced Valdes, sends a missile into the cages of Pinto to put Madrid ahead.
But Neymar will equalize to keep Barca in the quarterfinals.
See the goals
[dailymotion]http://www.dailymotion.com/video/x1l7e4b_barcelona-0-1-atletico-madrid-goal-diego_sport[/dailymotion]
[youtube]http://www.youtube.com/watch?v=AX6kRCU_9dg[/youtube]