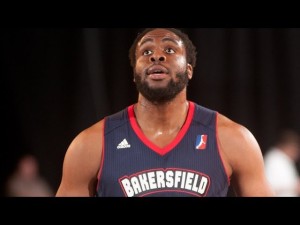 Waiting to find a place in the roster of an NBA franchise, Ike Diogu makes proof of his qualities in the NBA D-League. The Nigerian interior of Bakersfield Jam observed by the Knicks and Bobcats, has been elected Player of The Month in March.
The captain of the D' Tigers of Nigeria has led his team to a record of 10 wins and 3 losses in March including an outstanding 7-2 away and a series of seven consecutive victories. Over the period, the strong winger turned to 21.4 points with 59% shooting, 12.3 rebounds and 1 cons average.
For his first trophy of best player of the month in the NBA D -League , Ike Diogu has cracked 12 double-double over the 13 games played in March. On March 19 he blackened his copy with a huge double -double with 30 points and 19 rebounds in the victory Jam over Texas Legends (114-100) before splitting his best scoring of the season (32 points) for a 115-109 victory against the Santa Cruz Warriors on March 30.
Ike Diogu turns on average this season at 18.3 points 9.8 rebounds and 1.5 assist per game
Highlight of his game (30 points and 19 rebounds)
[youtube]http://www.youtube.com/watch?v=xlE3cN0nTvY[/youtube]