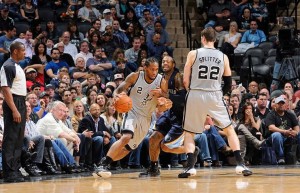 Having tasted a defeat on Thursday that ended his series of 19 wins, San Antonio has recovered this night against Memphis. In a three-way battle (with Dallas [47V-31d] and Phoenix [46v – 31d) to qualify for the playoffs in the West, the Grizzlies have been the latest victims of the League leader, 112-92.
Despite the loss of their All Star leader Tony Parker ( 10 points) after 9 minutes following a back injury, the Spurs have stifled of input Grizzlies concluding the first quarter time with a difference of 16 points ( 26-10 ). Tim Duncan (13 points, 5 rebounds) dominates Zach Randolph (8 points) and Marc Gasol (6 points) in the paint. Manu Ginobili and Kawhi Leonard 26 points each finished top scorers of that meeting, they controlled from beginning to end. For this 60th victory (17 losses) Texans, Boris Diaw (0/ 2 midway and 0 /1 3-pointers ) makes a disappointing copy in 19 minutes with 4 rebounds 1 assist , 3 fouls and 3 balls lost for a score of 1 in evaluation.
Only Mike Conley (18 points) and bencher James Johnson (20 points) were double – faced among Grizzlies ( 45v – 32d) who perform a wrong operation there in the fight for the playoffs.
[youtube]http://www.youtube.com/watch?v=PHdcC0dPSs0[/youtube]